William Thomas Fuller was born on Thursday morning at 9:42 after a long night of labor. He weighed a whopping 9 pounds 7 oz. and measured a long 22 inches! He has lots of strawberry-blond hair. He came out already sucking his fingers and with a man's appetite!
Baby's first name has a double-reference. The first reference is in honor of his great-grandfather, William Fuller. I didn't know my dad's father very well, but what I do remember of him is worthy of respect: he was a loving father and a very hard worker. He basically worked his whole life at General Motors in Tilton, IL and outside of his job, he was always spending time with his children or wife. I remember he and grandma and my dad working in the large gardens in their backyard for hours--they just seemed to love working the ground and making it produce all kinds of wonderful things! I know that this man was the reason for why my father had such a strong work ethic and sense of his responsibility to provide for us. Both my grandfather and father (Carl) have passed away and so this makes our William, a very special Fuller to carry on this name.
The second reference is to William Wilberforce. Wilberforce has an amazing story and for those of you who haven't yet read or learned much about him, you should make an effort to see the movie, Amazing Grace, when it comes out on video at the end of this year. Through God's sovereign hand, Wilberforce trusted in Jesus Christ as his only hope of salvation and became a Christian. This strong faith came as an adult partially through the influence of John Newton, the author of the hymn, Amazing Grace. Wilberforce is most notable for his efforts to abolish slavery in England. Take some time to learn about him when you can!
The middle name is in honor of Audrea's father, Tom Walther. We love Dad so much and have been greatly blessed by his wisdom and care. He is a man who loves God with all his heart and provides a beautiful example for our little son to look to.
For those who are interested, the full story of our little Will's birth is below. If you're just interested in pictures, take a look at the little guy's photobucket.

The Full Delivery Story
Over the last 2 weeks Audrea has been having what I previously called "slow labor." The first due date given to us (Saturday, June 23rd) came and went with no event. I worked from home on Monday (the most frequently referenced due date) thinking that baby would come any minute and then I would be right there to take Audrea to the hospital. Audrea's mom came over Monday morning as well to spend the week with us so that she could help us in the delivery room (she works as an OB nurse in Wisconsin). Monday came and went. Tuesday morning came and we thought for sure that would be the day especially after discovering Da Delivery Code. I worked from home again on Tuesday with high anticipation, but alas, the Essenes proved to be a bunch of quacks and nothing happened Tuesday.
On Wednesday I went to work hoping that Murphy's Law would kick into gear. Late in the afternoon, Audrea called her doctor's office to see if would be possible to schedule an induction for this week. The office looked at the doctor's schedule and said the doctor could do it either the next day or would have to wait for the next week. Audrea was elated with the possibility of a baby in less than 24 hours, so of course she chose Thursday! She called me and told me the good news. Then I called our friend Kathy and let her know the good news. Then after I got off the phone with her, Audrea called me back and told me that the doctor's office had failed to first check with the hospital to see if they had any available rooms for a scheduled induction on Thursday--the first thing they had available was not until the following Monday.
This thoughtlessness on the part of the doctor's office sent Audrea's emotions plummeting. She had ramped up her hopes only to have them dashed. She had had so many fitting words from God that day, though, that she knew God was teaching her patience and some things about worship. She had just had a shepherding moment with our girls talking about being content with the things God has given us and to not complain when we don't get what we want. She had read in Proverbs just that morning, "...who can withstand the destruction of jealousy." So after supper, a vigorous walk, a good cry in the bathroom, and a little wrestling with God, she settled down to watch a movie with all of us.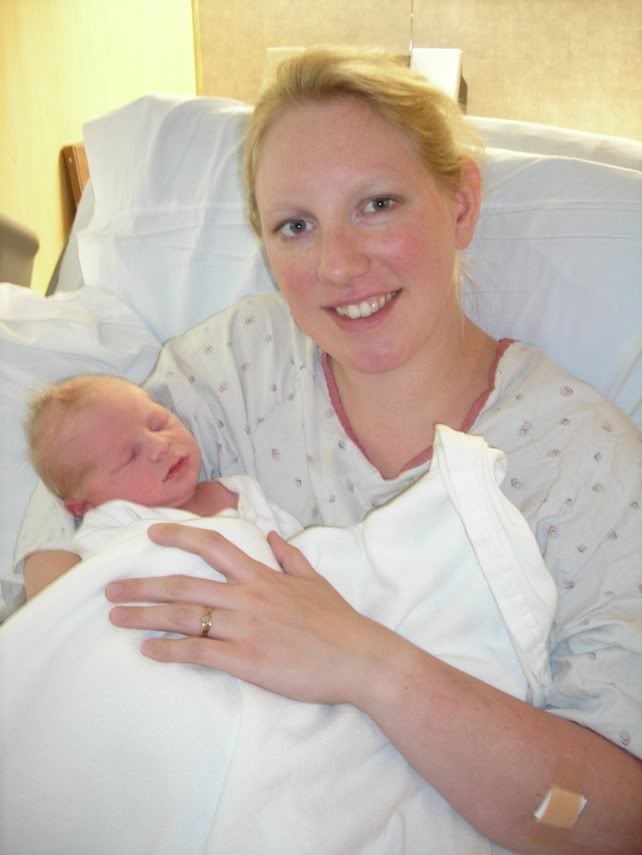 About half-way through the movie, she started having contractions. She pulled out her laptop and started using the contraction timer. After the movie was over, we noticed that the contractions were serious and very regular. The contractions didn't stop. Our dear friend, Kathy Gilder, came and spent the night with the girls, and our first friends in Minnesota, Dave and Glorianne Levy, agreed to come over and pick up the girls in the morning. Around midnight we left for North Memorial.
A Little Background on Delivering Babies in Minneapolis
Minneapolis is a big place, and the logistics of helping babies be born at North Memorial helped us realize that even Appleton, Wisconsin, is still a "small town"! When you arrive at the birthing center at the hospital, they first send you to an assessment room (a triage room of sorts). Here they determine whether you are in active labor enough that birth is imminent. If you're not, they send you home from there. During our tour we took earlier in the month, they told us to anticipate being in that room for an hour. Once they have confirmed that you are in labor, they admit you to the hospital and send you to the labor and delivery room. You stay in that room until the baby is born. We were told to anticipate being in that room for about an hour or so after the baby is born and then they would move us to a recovery room where we could stay for 48 hours.
Back to the Story
When we first got to the assessment room, the nurse checked Audrea, and though she had been having regular contractions, there had been very little change in the cervix since Monday morning's doctor visit. She said that we'll wait for about an hour and see if there's been any change. An hour later there was no change. Another hour later there was no change. The contractions kept coming but no progress was apparent. By that time, the nurse began suggesting that in times like these they would typically send the patient home and give them some medicine to help them sleep through this "early phase of labor." We expressed to her that that would be kind of difficult for us to travel 25 minutes back home and make all new arrangements for child care. She didn't press the issue. 3:30 came and went and no change. At 4:30, Audrea was exhausted. She had not slept since the night before and was now completely worn out. We both began to think that we might as well go home because she needed the sleep. We discussed it with the professional (Audrea's mom J) and her opinion was that that was a bad idea; each of the departments (assessment, delivery, and recovery) had their own staff and the assessment staff didn't have anything else to do! She suggested asking if we could take the medicine here and sleep.
A little before 5am we asked the nurse if we could take the medicine and rest here until there was enough progress. She said, "Well, let's just check one more time and see if there has been any progress." She checked Audrea and the dilation had added 1cm (to 4) and 10% to effacement (now 80). To the nurse, that seemed like enough to indicate there was some forward momentum occurring. She contacted the doctor on call and the doctor agreed and said to admit Audrea.

Some History on Our Previous Delivery Experiences
With our first child, Savannah, Audrea had been essentially induced, received an epidural that worked hardly at all, and was on pitocin (a hormone drug designed to speed up the process). Savannah was facing the wrong way for most of the delivery--her little head was pressing on Audrea's spine for most of the time--about 20 hours. The whole thing was very, very difficult for Audrea. Then with Sabrina, we decided to go the all-natural (no drugs of any kind) route and though Sabrina was a week late, she came quickly (about 4 hours after we got to the hospital). With Elayna, Audrea went through to near the end and took just a little pain reliever for the last hour or so. With this baby, we decided, we've tried the different approaches and there is no need to prove anything to ourselves or anyone else. We were going to take the pragmatic route and be open to whatever assistance.

Again, Back to the Story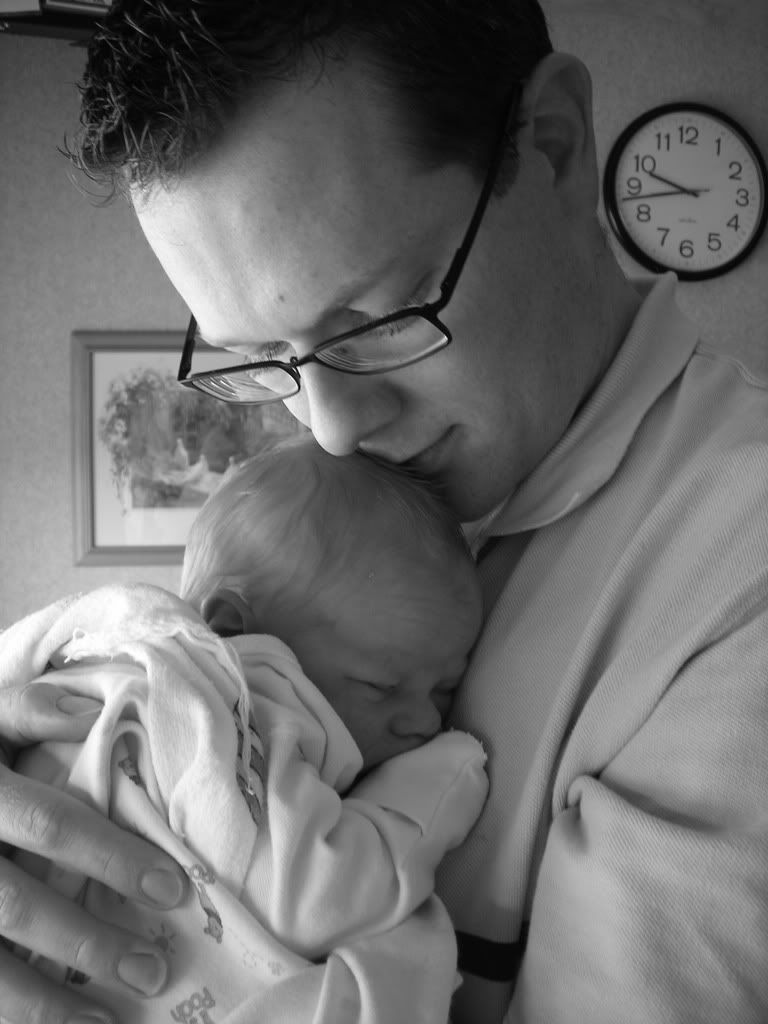 Once they got Audrea into the labor and delivery room, having already labored for several hours through the night and seeing that we had a long way to go, we told them that an epidural would be much appreciated! They gave her the epidural at 6:45am. While that really alleviated the pain of the contractions, Audrea started to have uncontrollable shivering and teeth-chattering. At about 8am, the new doctor on call, Dr. B.J. Harris, came in to check on Audrea, and to break the bag of waters to speed things up. She said that since Audrea had an epidural, she could just rest until she sensed the urge to push. Essentially this meant, take a nap until things were ready. While that sounded good, the shivering kept Audrea from really doing this. However, once the water was broken, strangely, the shivering stopped. We all were then able to have a much needed nap which took of the edge of exhaustion and prepared us well for what would follow. Audrea just couldn't get over the fact that she was nearly 8 cm dilated and sleeping!
At about 9am, a nurse checked Audrea and said that she was completely ready. At about 9:20, Audrea began sensing that the baby was descending rapidly and said we'd better get the doctor quick. We paged the doctor and found out that she was prepping for a c-section! The nurses were worried that Dr. Harris may not make it up in time and grabbed a family-practice physician who just happened to be out in the hallway for a backup. Thankfully, they were able to get Dr. Harris to come in, although that meant Audrea had to pant through the contractions and not push. (Which only drives a poor laboring woman nuts: "We spend all this time trying to get it out and now you tell me, 'Don't let it out!'"
One of the things on our birth plan was a desire to allow me to help as much as possible in the delivery. I had helped catch Elayna when she was born and there's nothing quite like it. I had completely forgotten that we requested this in the birth plan and figured they wouldn't go for it anyway, and was all setup to video-record the birth when Dr. Harris walked into the room. When she walked in, she said, "Dad, are you going to put some gloves on to?" I hadn't even asked her and she offered to let me suit up and be the catcher! It was such an amazing experience again! It's one of those never-forget-it moments of life.
Audrea may have long labors, but when baby's ready, she gets the job done right away! And this was no exception. Within 10 minutes, little William came out into the world! The nurses and Bev (Audrea's mom) took care of him quickly and within a short time we were ogling over him and taking tons of pictures!
Later in the evening, mom and dad brought over the little girls who were not nearly as disappointed about not having a new sister as we thought they would be! In fact, I think they are going to love doting on him and of course, making him play "house." Savannah has already declared that she will be his Jedi Master and teach him the ways of the Force. And as one of our nurses today pointed out, having three older sisters will surely make this little boy into a sensitive, caring man.
Many people have congratulated me on finally having a boy and as if there is some level of accomplishment that is greater than having the girls. I don't feel that way, though, at all. While it is neat to have a boy, I didn't feel "my life was now fulfilled" now that I had a boy. I'm loving the idea, although it is taking some getting used to saying "he" in reference to someone else in our family! This is quite a thrill and we can't wait to share how this new chapter in our life unfolds.