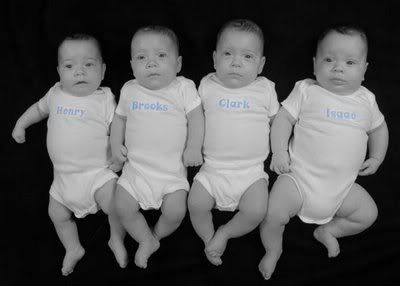 Hey everyone who sometimes takes a look at my blog--could you do me a favor?
My friend, Jen Murray, has a blog about her quadruplets. Please take a moment today and as often as you want (but no more than once per day) to vote for it being one of the best parenting blogs of 2008. Her blog is an encouragement to those parents who wonder how to take care of several children at once and is always an amazing display of God's grace in many ways. Her blog can be seen
here
and you can vote for it
here
.
(Funny note about how I know Jen: I met Jen when I lived in Danville and worked at the Open Door. She would come in and give me a hard time about this so-called girlfriend (aka Audrea) that must not exist since she had never met her. It wasn't until much later that I found out that she was the kid sister of my dear friend,
Kirby Myers
!)