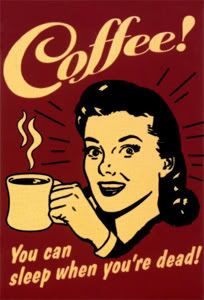 There are so many things about Audrea that I love. One of them is her quick wit and sometimes all out silliness. Last night she said something that had us in tears...
I try to pretend that I'm somewhat of a coffee connosieur. I don't like to settle for your regular, run-of-the-mill coffees. The problem is--I honestly don't have a trained palate that can distinguish the nuances between fine coffees. Oh, I can usually tell if I'm drinking the good stuff, but I couldn't tell you the particular differences other than dark and bold versus light and mild.
So last night, Audrea and I were feeling pretty exhausted and goofing off looking at Facebook. She gets up to go put her empty coffee cup in the sink, and I tell her, "You know, these beans I bought today are from Mexico." And she replies, "Oh yeah, you can just taste the chihuahua."