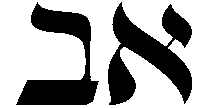 As the great poet, Meat Loaf, sang,
it's all coming back to me now
! (Okay, so it's an entirely different context...) I've been spending some time digging back into recesses of my mind to recall my first semester of Hebrew which I took in the fall of 2006. A week from now, I'll take Hebrew Syntax & Exegesis at
Southern
and have to be up-to-speed by then. Thankfully I was taught by a brilliant teacher,
Dr. Roy Beacham
. As I was looking over his handouts tonight, I was reminded of what a fantastic job he did of imparting his "tricks of the trade" because it all flooded back in! So, thank you, Dr. Beacham!